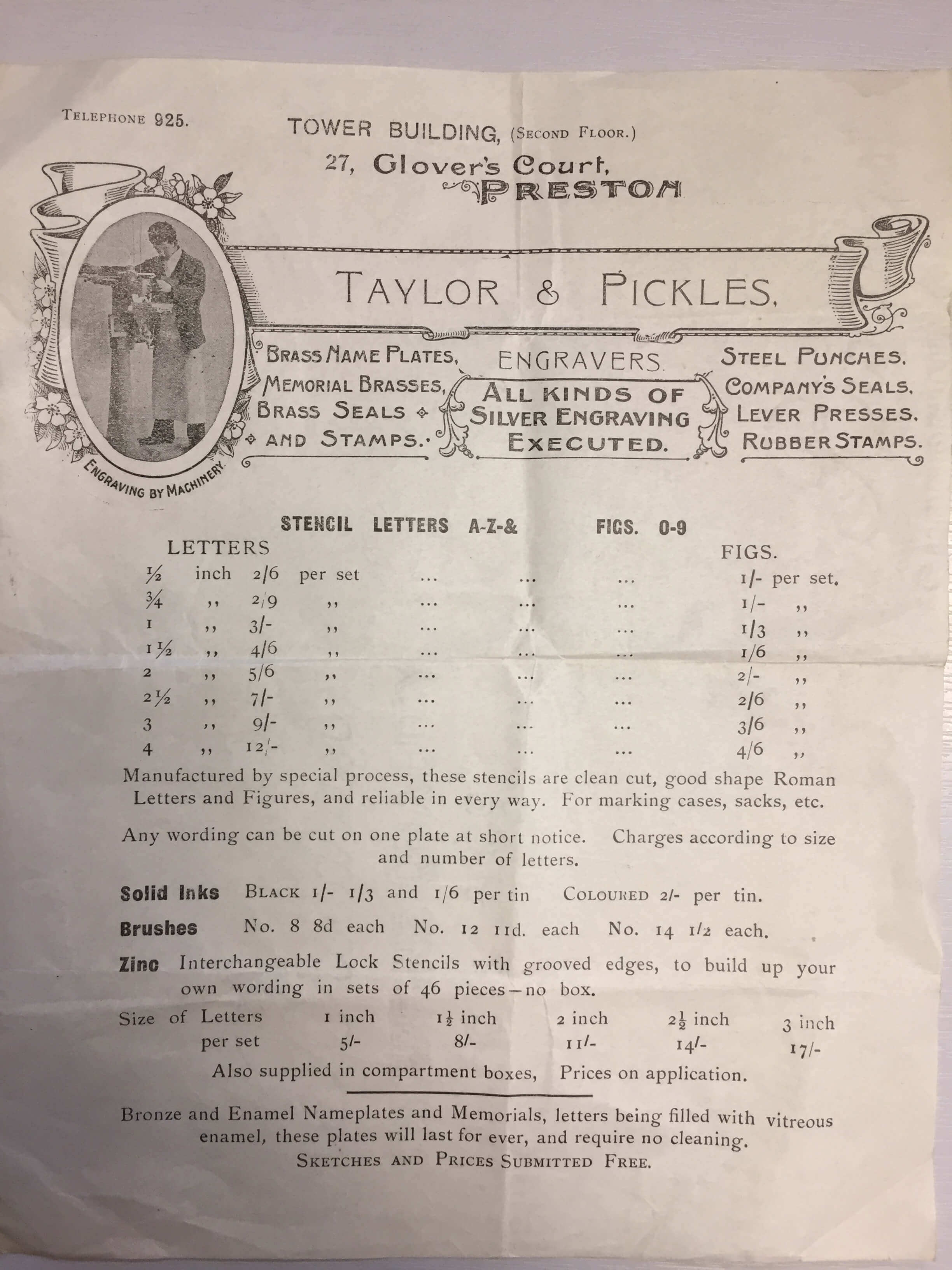 ---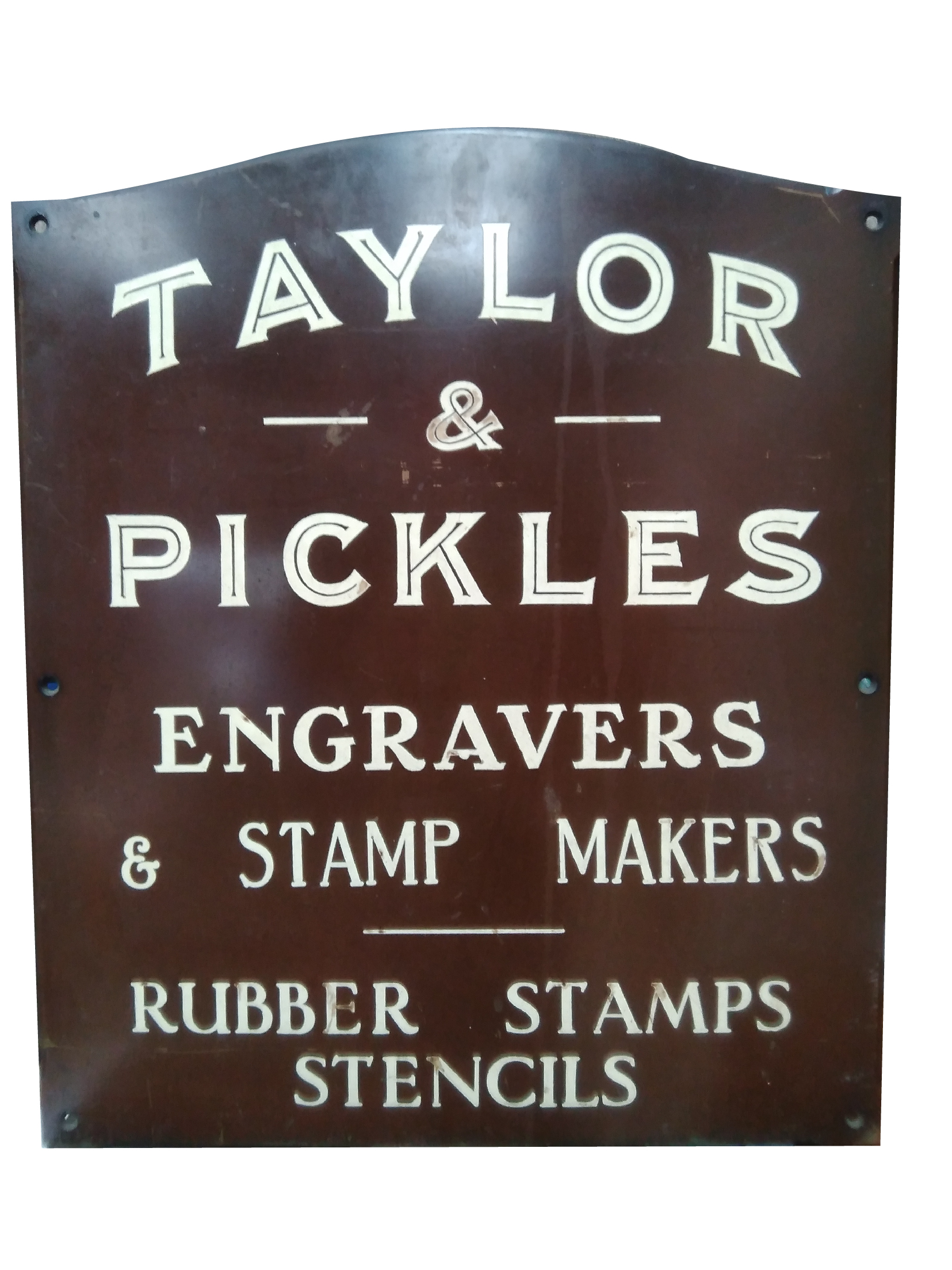 Our History
Taylor and Pickles was set up in 1929 by Mr. R. Taylor and Mr. F. Pickles on Guild Hall St, Preston as a small engraving and rubber stamp supplier to all the local businesses.
1970's – 1990's (Avenham St)
Taylor and Pickles as a company grew to a larger engraving and rubber stamp suppliers to most of the businesses in the Preston area with the guidance of the owner and son of the original partner Mr. Frank Pickles. In 1993 Frank Pickles retired and sold the business to a trophy engravers in Southport who wanted to expanded into another market but also linked their knowledge of engraving across to the new business. With new drive and ambition new machinery was purchased and a new team was employed to drive the company forward. Taylor and Pickles started winning contracts with the likes of Marks & Spencer, The British Council and BNFL. Before very long, new premises were needed.
1994 – 2002 (Preston Technology Management Centre)
Taylor and Pickles moved into their new premises in a modern business park even though they had lost their shop frontage on the high street, the business increased year on year and the new technology, the internet and email were taking hold so the need for a shop front decreased. Taylor and Pickles were now winning contacts further afield with large blue chip customers. With the order book full, the company expanded yet again.
In 2001 due to the internet and companies having more and more elaborate branding, we realised we had to adapt and offer more modern and contemporary materials and designs. At that point, local engineering and powder coating companies helped to supply the metalwork and paint finishes our customers needed.
2002 – 2019
In 2002, Taylor and Pickles were approached by a local engraving and engineering company who had been a valued supplier for many years. Due to new market trends, it was agreed the best way to move forward was to merge to form a larger company in new premises.
2019 – Present
Following a successful Management buyout at the end of 2019, Taylor and Pickles moved into new modern purpose built premises in Bamber Bridge on the outskirts of Preston where we continue to manufacture high quality signage for many national companies.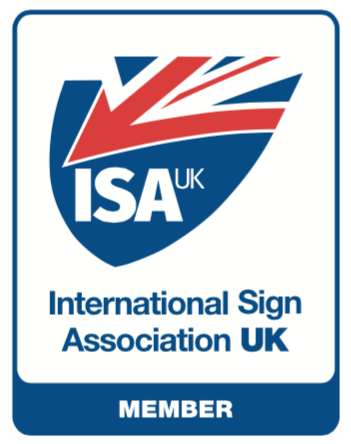 Accreditations

---
Dave Hughes
Group Sales Director & Account Manager
David has worked in the sign industry for over 30 years and has a wide knowledge of all aspects of materials and production methods which enable him to best advise on sign specification and construction.
✉︎ david.hughes@taylorandpickles.co.uk
✆ 07976 616342
Richard Lloyd
Production Manager
Richard has worked for Taylor & Pickles for over 20 years as Project Manager. Richard has vast products knowledge and has managed many large, complex national signage rebranding projects.
✉︎ richard.lloyd@taylorandpickles.co.uk
✆ 01772 251520
Studio Manager
Craig is our Studio/Design Manager. He oversees the smooth running of our design studio communicating directly with clients to ensure their brand standards are adhered to. Craig has worked within the signage industry for 15 years.
✉︎ craig@taylorandpickles.co.uk
✆ 01772 251520
Manufacture
All of our products are manufactured completely in-house in our 40,000sq.ft premises which includes a sign production and sheet metal workshop, powder coating plant, laser and waterjet cutting.
Installation
All of our sign installers are fully qualified and hold current PASMA, IPAF and First Aid certificates as well as adhering to Health & Safety and CDM regulations. We have installed many large signage programmes throughout the UK.
---