One of the UK's leading care providers, Hallmark Care Homes, have celebrated the opening of their latest state of the art care home, Banstead Manor. Taylor & Pickles were delighted to design, manufacture and install all internal and external signage of the highest quality for the 77-bed, £8m development in Surrey.
Attention to detail is impeccable throughout the home; each bedroom door displays a stainless-steel name plate holder which matches the stainless-steel door fixtures. The nameplate holders are incredibly useful as names can be easily and quickly changed as required. What's more, all bedrooms in the specialist dementia area of the home exhibit a bespoke display unit designed by Taylor & Pickles to show a unique, eye-catching image on each door to aid residents in identifying their room. The dementia signs are manufactured from anti-glare materials and use contrasting colours to aid visibility, as per the latest Dementia Guidelines.
Using our newly upgraded braille machine, we also implemented braille onto all internal signs to aid residents with visual impairment, complying with the 2010 Equality Act. The wayfinding signs incorporate bespoke wallpaper which is colour coded to complement the interior design of each floor, with the Hallmark Care Homes logo subtly incorporated into each sign.
The external signs are vintage-inspired with solid surface marble effect lettering applied to the face of each sign for a super stylish, modern twist. The use of marble effect material continues inside the care home with individual lettering installed onto the Reception desk which creates a striking first impression as you enter the home and a sense of continuity.
The end result is stunning signage of the highest quality that meet both CQC and Dementia Guidelines. Taylor & Pickles have now been appointed to begin design work for Hallmark's next care home due to open in 2020; watch this space!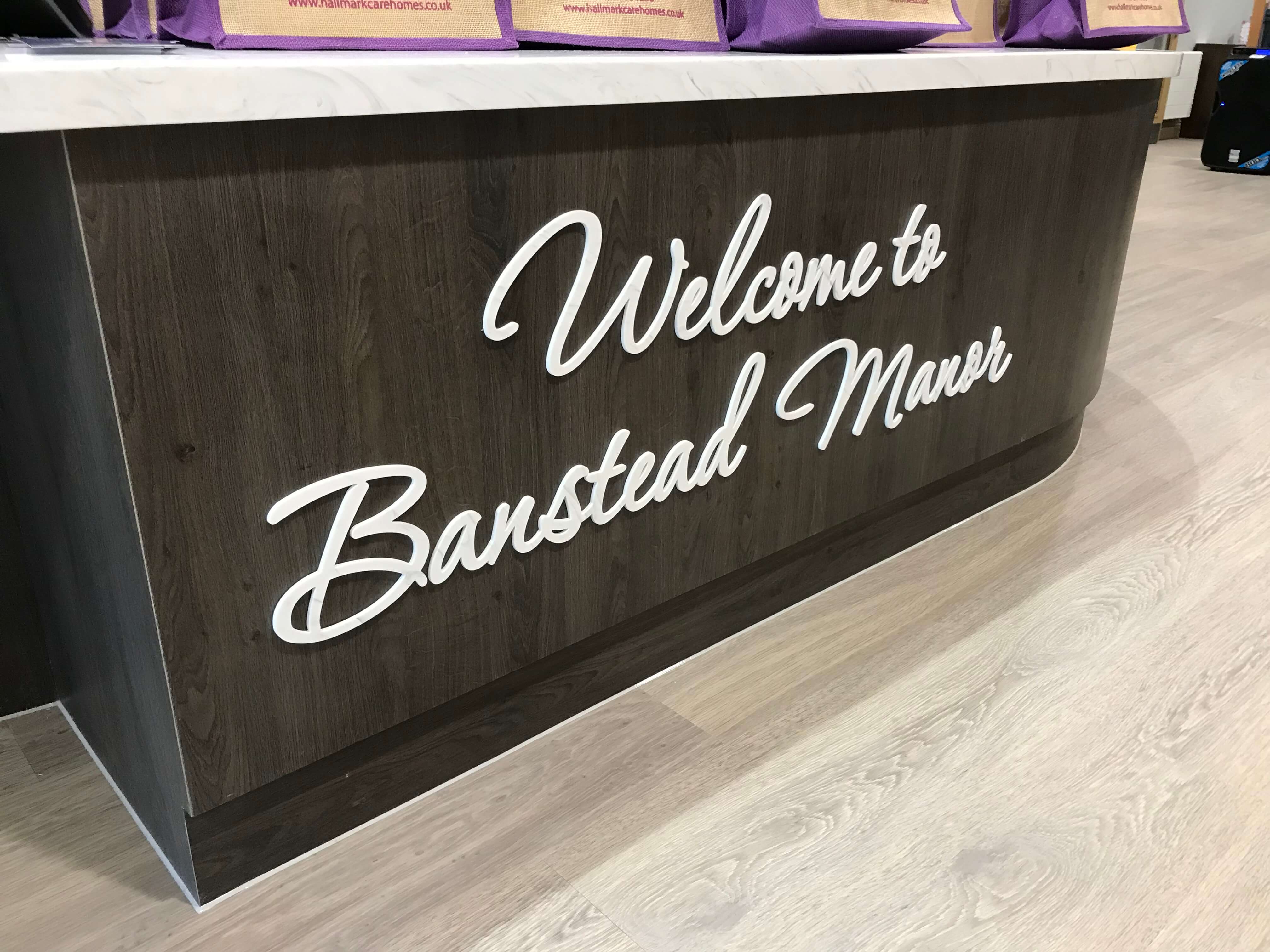 Project In Brief
Client Hallmark Care Homes
Skills Branding, Signage, Care Home Signage, Design, Manufacture, Installation
Signage Installed: